Based on the materials we get, such as freehand drawings, renderings or descriptions, our design office develops detailed designs (also known as preliminary designs). To implement the project, we use advanced programming tools that allow us to create 3-D models, including individual components and technologies used.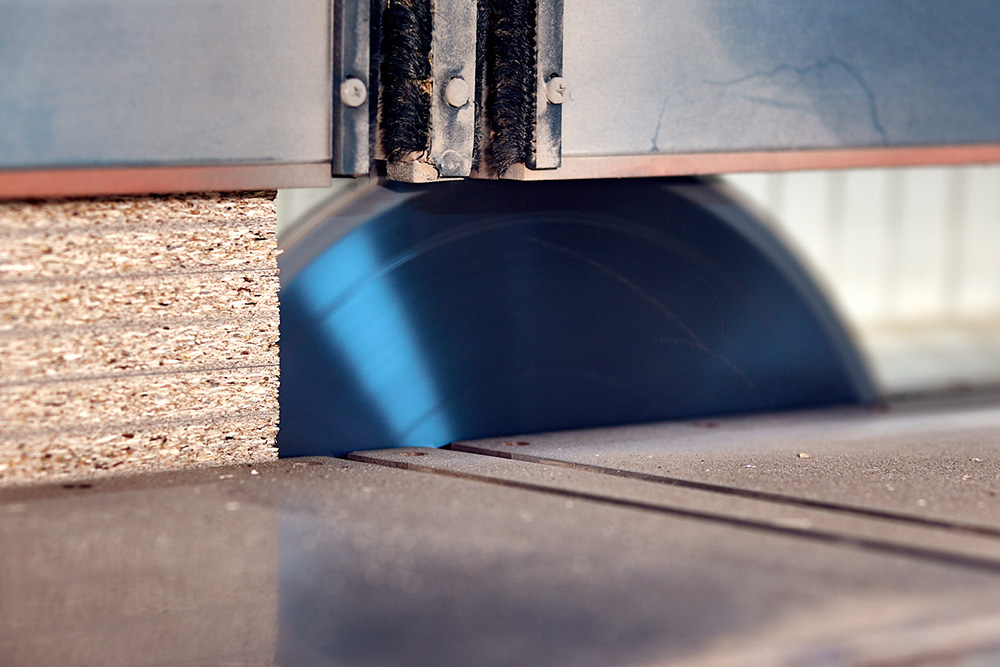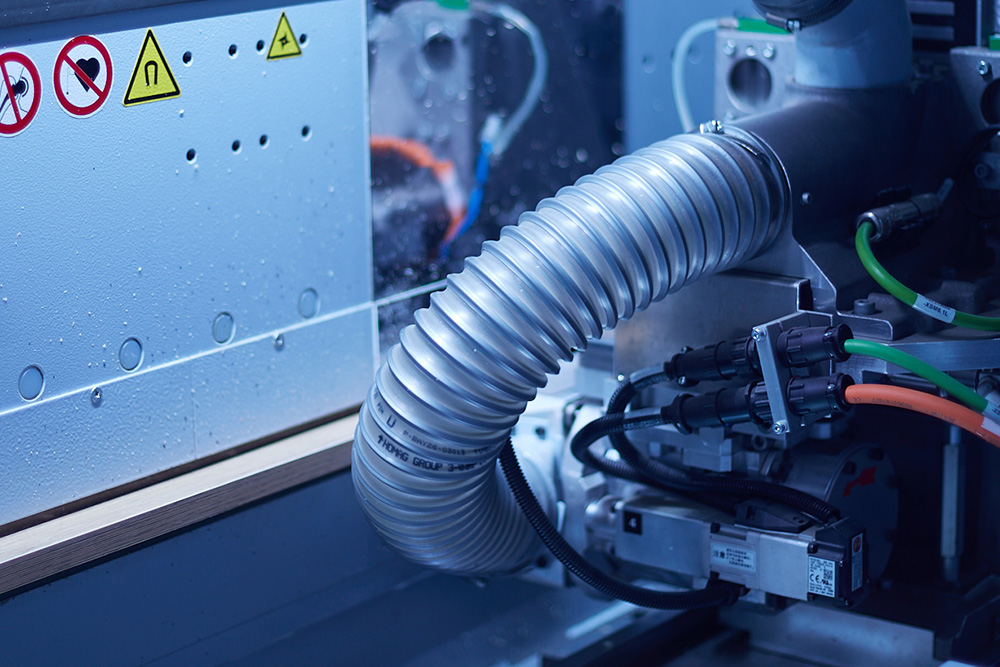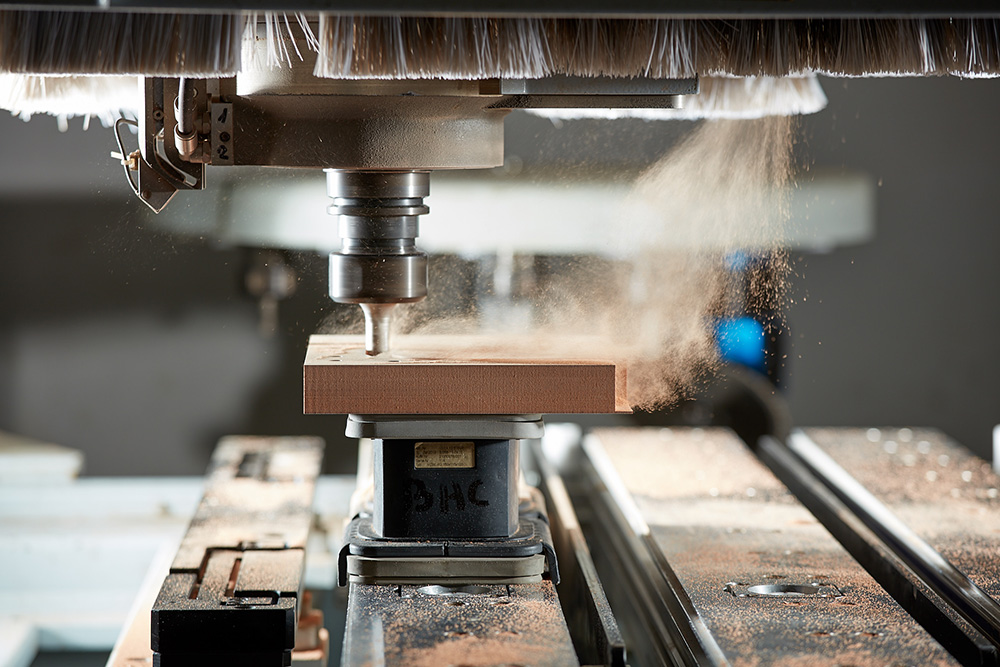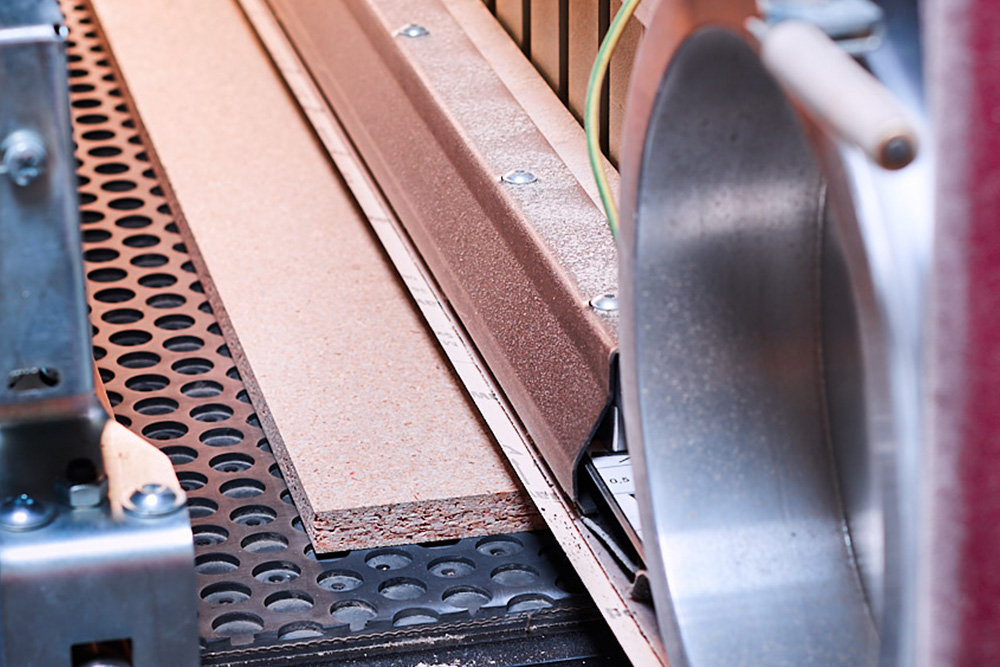 The preparation of veneer, due to its thickness, requires not only extensive experience, but also the use of appropriate, precise machines. The first stage of veneer preparation is milling. In order to avoid visible joining of leaves, manifested by a sunken varnish on the joining line, we use very precise high-speed milling cutters with diamond tools.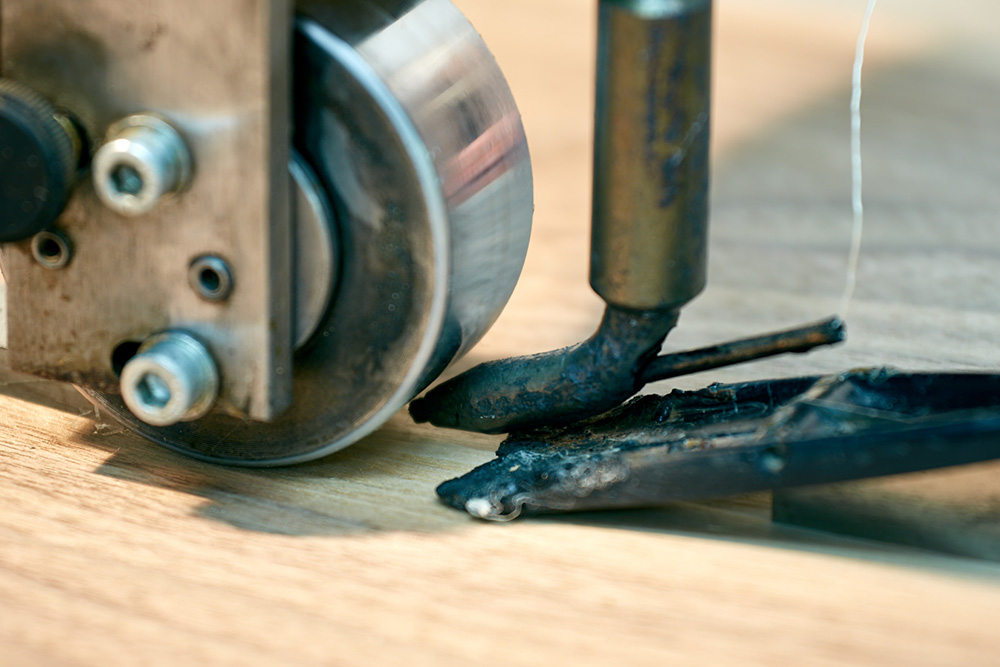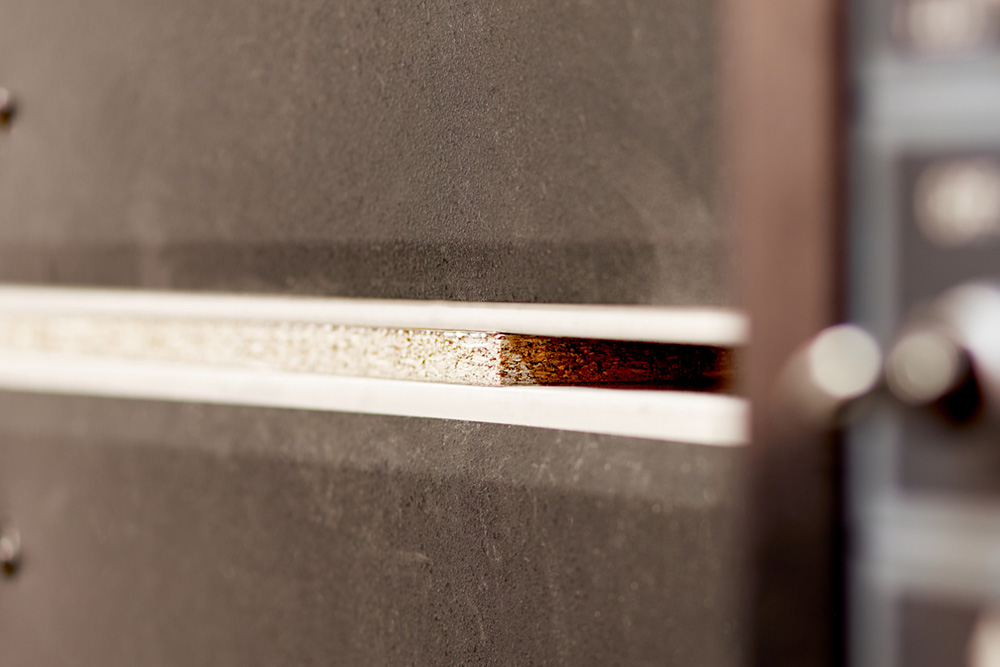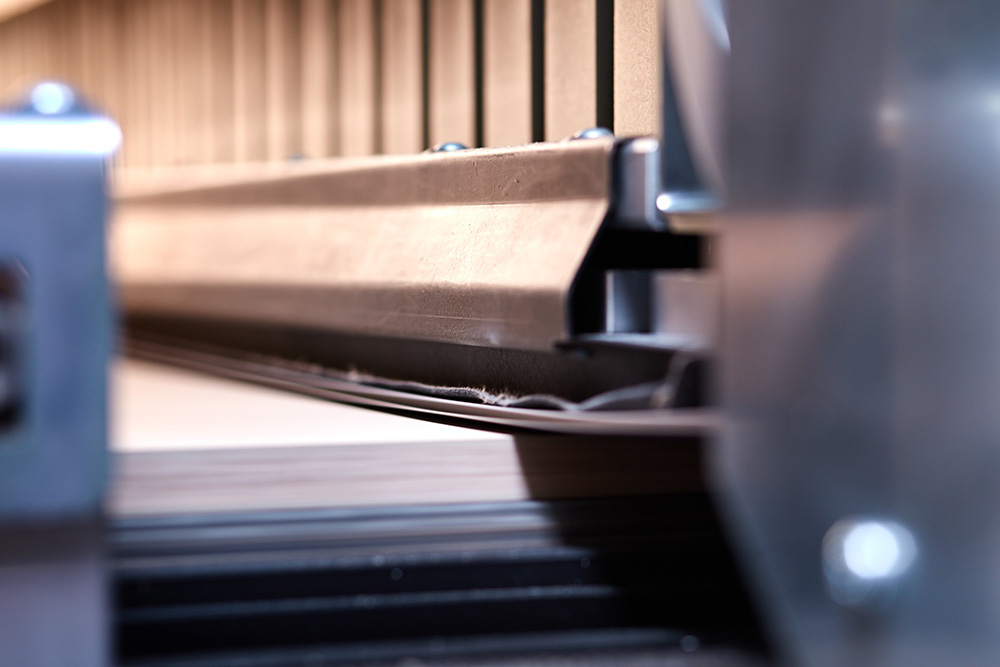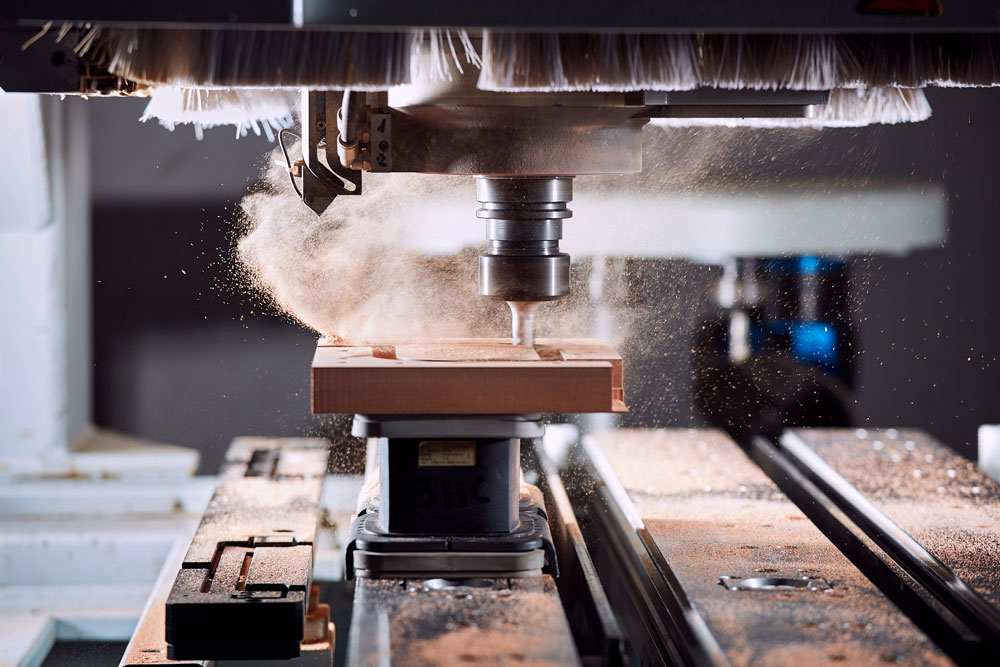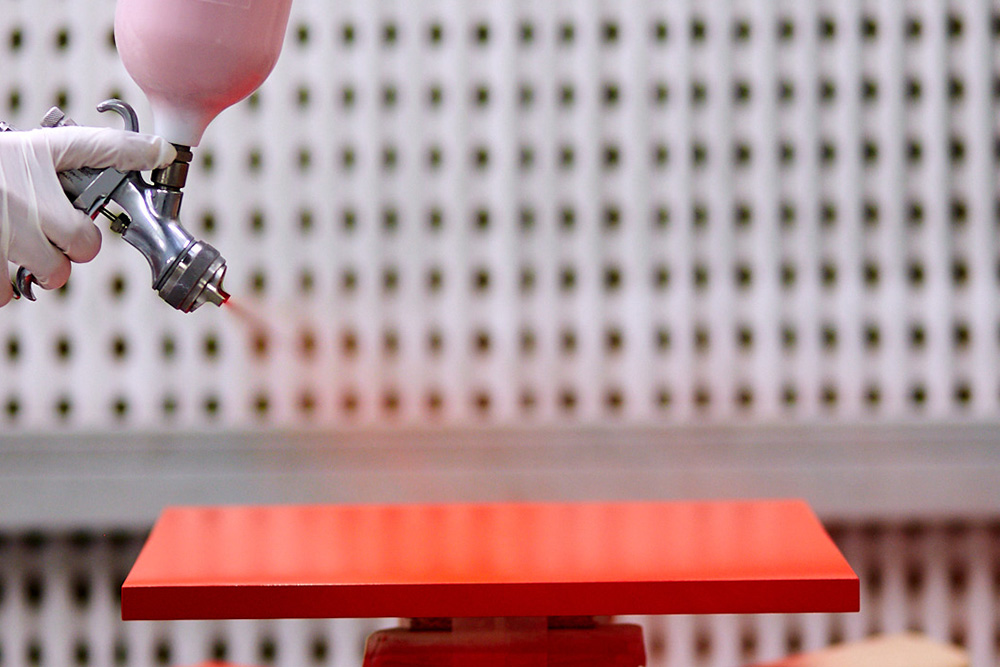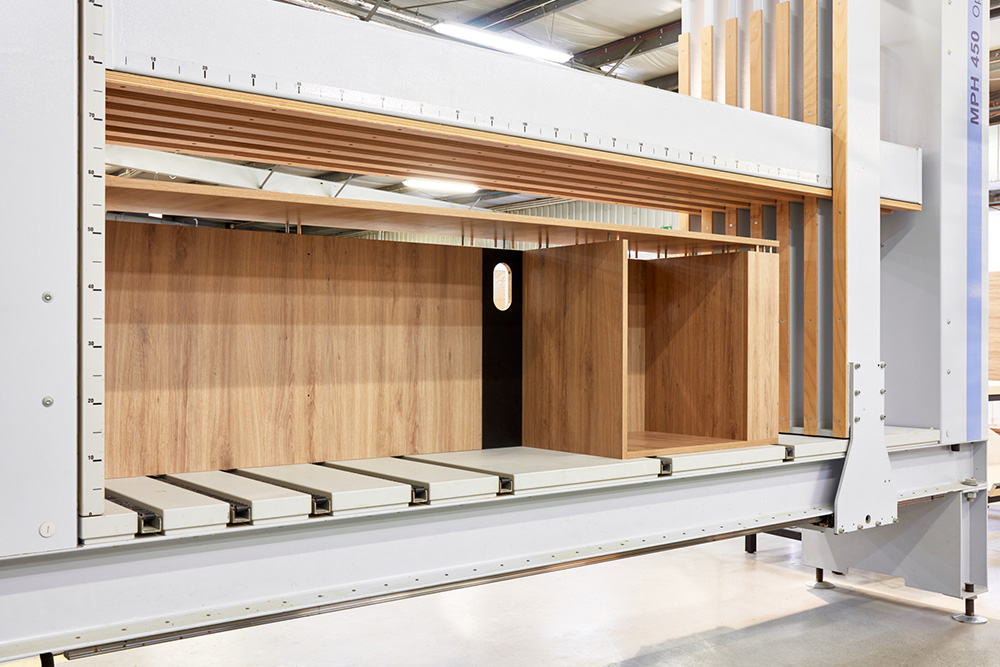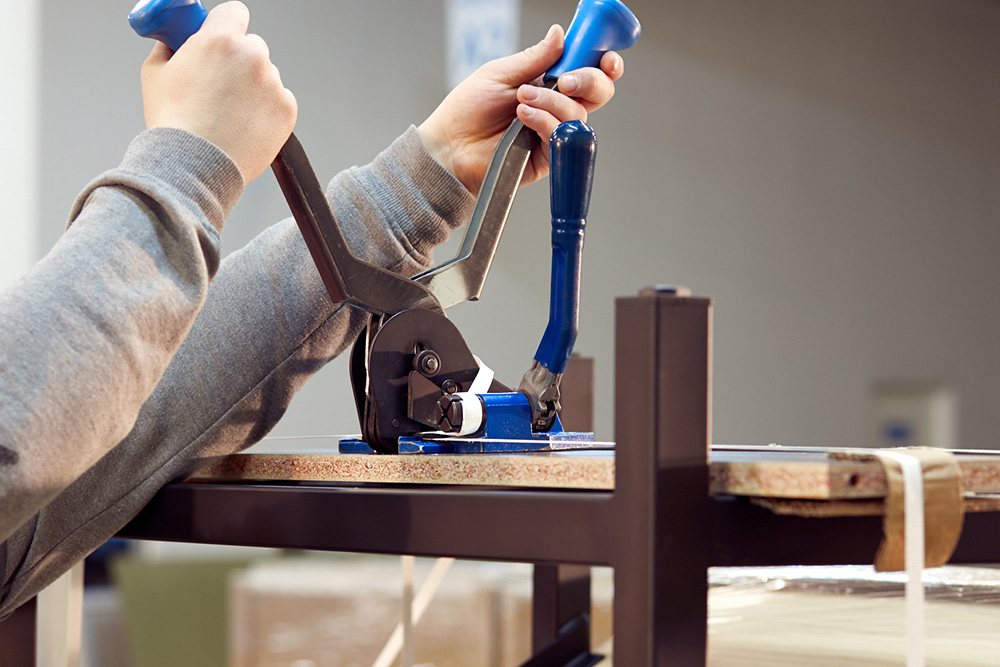 Chipboards
Basic construction material when making furniture. Chipboards are made by pressing wood chips with the addition of resins. At present, most of the production is made of three-layer boards. Looking at the internal cross-section, the layer is made of coarser fraction chips and there are free spaces, while the outer layers consist of a small fraction and are much more compacted. This structure makes the board lighter, more durable with smooth outer surfaces. It merits remembering that in addition to the standard board, there are also versions with increased resistance to moisture and low inflammability. Boards with increased resistance to moisture can be used primarily in kitchen and bathroom furniture, but also in all furniture and buildings intended for use in tropical climates.
Hard-inflammable tiles are used inside rooms for office furniture, rooms, doors and partition walls, as well as in public buildings such as hospitals, airports, vacation houses, theatres, hotels, etc.
MDF boards
The second structural material of furniture after the chipboard. MDF boards are formed as a result of compression of wood fibres with the addition of organic bonding and curing compounds under high pressure and temperature conditions. MDF boards are designed for the production of kitchen furniture, room furniture, cabinets, interior finishing elements, wall panels, coffers, finishing strips, furniture and woodwork.
Laminated boards
Laminated boards are chipboards or MDF boards, covered on at least one side with decoratively printed papers, saturated with thermosetting resins in the laminating process. During this process, the structure of the board is also prepared. The total thickness of the decorative layer is approx. 0.1 mm.
Notably, if an MDF is used as a primer, the word "MDF" should be included in the name, because by default, chipboard is used as the undercoat.
It is also necessary to distinguish the laminated board from the board covered with HPL laminate. These products have a completely different purpose, technical characteristics and price. Laminated boards due to the available wide range of colours and textures of décors are widely used in interior design, for home furniture, partition walls, wardrobes, office and hotel furniture, countertops, etc.
Wood
Wood is a natural material obtained from felled trees by formatting and drying. Wood has always been synonymous with luxury. In relation to the boards, it is lighter and more durable, but its disadvantage is greater sensitivity to moisture and temperature. Nowadays, almost every kind of wood is used for the production of furniture, with exotic wood becoming more and more popular, which gives the furniture an exclusive and unique look.
Plywood
Plywood is made with plies of wood veneers, which are glued alternately longitudinally and transversely. Because of the need to compensate for stresses, the plywood should consist of an odd number of layers. The most popular wood in the production of plywood is birch, alder and pine. Often, the noble wood species are used for the outer layers.
In furniture industry, plywood is used both in the production of leisure furniture and box furniture. The most popular furniture made of plywood includes dressers, desks, armchairs and sofas, tables, tables, chairs and benches. Countertops and fronts are also gaining popularity.
HPL laminates
HPL laminated is a composite material consisting of layers of paper impregnated with thermosetting resins, combined at high temperature and under the influence of high pressure.
Laminates are used to refine panels, which are the basis for the construction of furniture, in particular particle board or MDF. The thickness of the laminate is between 0.6 and 0.8 mm. Laminate is a flexible mechanically strong material.
Due to these features, HPL laminates are widely used in the production of living room, bathroom, kitchen, shop furniture, office furniture, hotel and reception desks, wall panels, countertops, desks, internal doors etc. An example confirming the strength of HPL laminates can be covered desk tops, which usually do not lose their veneer even after 5 years and look much better compared to laminate tops.
Mineral plates
The material is popularly called according to the brand of the largest producer, namely "Corian". A mineral plate is a material made of mineral particles joined with a resin (acrylic, epoxy or polyester) with the addition of a dye. The great advantage of this material is homogeneity – the cross-section looks exactly the same as the surface – and the availability of adhesive masses with filling properties and matching colour, so that elements can be joined together without visible "seams". In addition, mineral plates can be easily formed after heating to 140°C, and after cooling they retain their shape. An additional advantage of this material is the lack of pores, therefore their surface prevents the growth of bacteria and formation of spots. Their relatively high price is compensated by the longevity and ease of repairing any damage. Minor scratches or tarnishing can be removed using re-grinding and in the worst case, starting from low gradations.
In the case of damage caused by a impact, you can mill the wheel in which the damage is located and paste a new piece of material. Mineral plates are becoming more and more popular and are widely used not only in kitchens or bathrooms but also in service and public facilities – in restaurants, hotels, offices, shops, banks, petrol stations and health centres.
Veneers
The veneer is a very thin, 0.5 mm to 0.8 mm piece of natural wood, obtained during "pushing" the trunk, i.e. cutting off thin layers from the trunk. Each of the layers is commonly called a "leaf". The leaves from one trunk are combined in packs, which makes the pack contain leaves with the same properties, in particular the same drawing of rings and shade. The combination of leaves in a larger plane requires not only a lot of experience, but also very precise tools. The veneer is used primarily for finishing the furniture surface, because veneered furniture has an interesting appearance, but also longer durability compared to ordinary veneers.
Piles
The piles are similar to the veneer panels of natural wood, however, they differ in thickness, because the veneers are 1 to 3 mm thick and have a rather technical application. Piles are usually obtained from soft wood in the peripheral cutting process.